3 Big Advantages of the Gulfstream Personal Ventilation System
Warehouses and industrial facilities tend to be warm places requiring the need for a proper personal ventilation system. This is because they are seldom air-conditioned and are full of machinery that produces excess heat.
3 Advantages of the Gulfstream
Proper air-movement is essential for workers to be comfortable enough to do their jobs. A "man cooler" fan like the Moffitt GulfStream is the ideal way to direct cool air where you need it in an industrial facility.
More Effective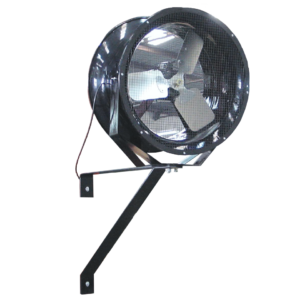 GulfStream air circulating fans provide an even stream of air to a specific spot. They focus a high-velocity jet of air directly onto the factory personnel. They are the best choice when cooling the whole space is impractical. Instead of cooling the floor like a portable fan, or cooling the workers' wastes like a pedestal fan, the GulfStream can be pointed directly onto the worker's face and torso to keep them cool. This steady stream of air from above provides an evaporative cooling breeze directly onto the floor personnel for most effectively cooling the personnel in a small area or a specific spot, an air circulating fan is the way to go.
Space Saving
Pedestal mounted air-circulating fans like the GulfStream occupy less floor space. They are designed for wall or building column mounting. This gets them up and off the floor, while also removing the clutter of cords. They easily adjust to the direction to ensure they are still pointed where they're needed.
Durable and Long-Lasting
Each GulfStream fan features a direct drive motor with a high-performance zinc-aluminum propeller. This durable, high-speed propeller maximizes the fan's performance. Furthermore, each GulfStream fan comes with a standard 2-year warranty. They are ideal for industrial locations such as warehouses, assembly areas, storage areas, workshops, break rooms, and garages, and docks.
Moffitt Corp & the GulfStream Personal Ventilation System
Moffitt can offer you a personal ventilation system to keep you cool. Often called "man cooler fans", the GulfStream is your answer to work space ventilation. Whether you need complete building ventilation or just spot cooling, we have the solution. Contact us today to learn more about the GulfStream or any of our other natural ventilation solutions.