How Does Axial Fans Ventilation Support Natural Ventilation?
Natural ventilation is the single most efficient and effective cooling system available. Unfortunately, it doesn't work in all building types. Spot cooling with axial fans and powered intake are effective ways to compliment a natural ventilation system. Of course, they also maximize energy efficiency and lower operating costs. Adding axial fans ventilation is an effective way to add a little extra to a ventilation system.
Axial Fans Ventilation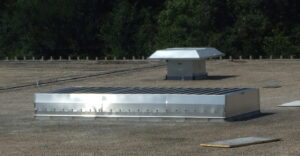 Natural ventilation works by pushing out the stifling air that accumulates inside the building. It helps to cool the building and facilitates the drawing in of fresh air from the outside. This is due to the differences in buoyancy and the air pressure inside and outside of the building. Natural ventilators are great at removing lots of heat naturally. Yet they don't work in every situation.
In locations deep within a larger facility or in enclosed locations, a fan may be required. Fans might also be necessary for smaller spaces with a low heat load or low ceilings. Installing a fan, with or without duct work and duct drops, is a good way to pull the hot air out of those spots. With the balmy air removed, these spots can feel the benefits of the natural system. A powered fan is an effective way to suck up the warm air from key parts of a building.
Types of axial fans
There are many types of axial fans as well as many options that can be applied to them. Probably the biggest difference comes in motor alignment. The difference between the two is clear as the direct drive fan has the blade assembly attached directly to the motor whereas belt drive fans utilize a belt system to turn the fan blade.
Most fans have an array of options including blade pitch adjustment, motor horsepower, and mounting angle tuning. They are available in a variety of different casings and can be fit to meet different ductwork configurations.
Axial fans have proven to be the ideal choice for exhausting large air volumes from schools, commercial buildings, power plants, warehouses, industrial plants, and equipment rooms. Despite their size, today's fans are very energy efficient and are amazingly effective at removing stale air and bringing in much needed fresh air.
Fan Alternatives
By choosing the right fan for your building you can prevent energy waste and high energy bills. Of course, the real benefit of Moffitt is that we know ventilation systems inside and out. We don't just help you choose a fan; we help you choose a complete ventilation system. Our ventilation designers will help show you how many fans you need, where to place them. Alternatively, we can also show you how a natural ventilator can work with the system of fans to make your building even cooler, more comfortable, and energy efficient. We help you provide maximum comfort for your employees while also helping you save on energy bills.