Industrial HVAC CFD Modeling
If your facility is too hot, too humid, or just too stuffy, you need to consider Industrial HVAC CFD Modeling. When estimates based on square footage and a few temperature readings aren't enough, it might be time to get a full CFD Model.
A CFD model will let you see how a new ventilation system will impact your entire facility. From the floor to the ceiling and from the doorways to deep into the work floor, you will see it all. Whether you need ventilation, natural cooling, or heating, Moffitt can develop a CFD model to help you find the right solution for your facility.
Ventilation CFD Modeling for Industrial Facilities
A CFD model will show you exactly how the heat moves through your building. By turning warm air currents and cool spots into vivid reds and greens, CFD modeling makes it easy to identify the hot spots in your building. Seeing how the warm air flows and settles at different locations and elevations allows you to make the best decision for your new industrial HVAC solution.
These models then help us discover the right solution for your building. We can see if the problem is a lack of intake air coming, we know we need to add more louvers. If the air is collecting at the ridge of the roof, we know a natural ventilator needs to go there. Our design engineering team uses these models to develop the best ventilation solution possible for your facility.
Industrial HVAC CFD Modeling: Before & After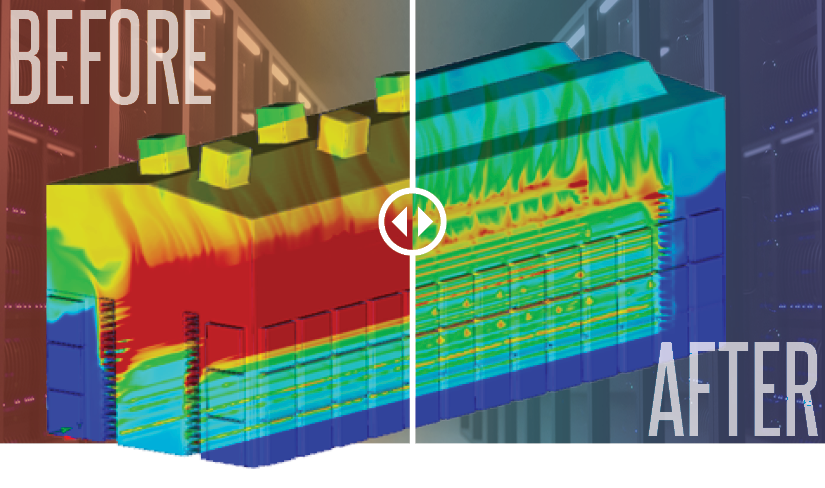 Once we have completed the models, and developed the solution, comes the official CFD proposal. Each Moffitt CFD proposal comes with multiple models to compare, and data for you to evaluate.
We want to make sure you understand the impact the system will have on your building. When you can see a "BEFORE" image depicting your plant's ventilation compared to what it will look like "AFTER" the new solution is installed, you will better understand what the new solution is offering.
Comparing different ventilation options helps us find the best solution for your building. One that best suits your workers' needs and your budget. Of course, all of this is done before the first hole is cut or the first product is ordered.
Iterating Ventilation Options
One of the best features of CFD Modeling is our ability to iterate. Once the CFD models have been developed and explained, we can adjust and improve them to ensure the system best fits your needs. For instance, if the solution shows that the temperature is still too high in a certain area, we can modify the layout or equipment selection to compensate. Additionally, if the recommended solution doesn't fit with your current budget, or installation won't fit with your production schedule, we can scale the model back or split the solution into installments.
CFD Modeling for Ventilation Solutions
At Moffitt, heating and ventilation have been our specialties for over sixty years. While we don't do air conditioning, we do specialize in adiabatic and evaporative natural cooling. Contact our team today to see how Moffitt can help you find your industrial HVAC CFD modeling solution.