Lunch & Learn Webinar – Natural Ventilation Virtually
2020 has been a difficult year for lunch meetings. With travel restrictions, office closures, and people working remotely, getting together for lunch has mostly been put on pause. That is why the team at Moffitt has taken our Natural Solutions education virtual with a Lunch & Learn Webinar. Usually we like to travel to your office, meet you in person, and tell you about natural ventilation face to face. While we cannot do that, we are still staying connected through our Lunch & Learn Webinars.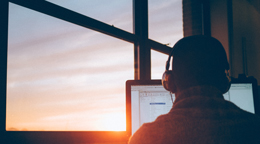 For years Moffitt has taught people about the power of natural solutions with in-person seminars. In about an hour we can show you the power of natural ventilation, how to design with it, and how Moffitt can help you out. From engineers to architects we like to show everyone how natural ventilation can make a positive impact on their next project.
What is a Natural Ventilation Lunch & Learn?
A Moffitt Lunch & Learn will have you looking at industrial ventilation design in a whole new light. We have seen people with decades of experience discover the impact of natural ventilation solutions. The Moffitt team, including President John Moffitt, our Regional Sales Managers, and our District Solutions Providers have held Natural Ventilation Lunch & Learn seminars at some of the biggest engineering companies in the country.
Each seminar covers everything from choosing and sizing natural ventilators to determining wall louver-free area. Sessions are designed to fit your needs and the industries you work with. In our nearly 60 years we have designed complete ventilation solutions for power plants, steel mills, smelters, forges, chemical plants, paper plants, warehouses, and more.
Going Virtual with a Lunch & Learn Webinar
Now, for the first time our Lunch & Learn seminars are now available as webinars. While we have done webinars in the past, we have upgraded our technology and improved our presentation to better fit the virtual environment. We can talk to you from our offices in Jacksonville Beach, Florida wherever you are in the world. Depending on the circumstances, we might even still be able to provide the "Lunch".
We present webinars for specific companies and large-scale events for dozens of people. Call us today to see if there is a Lunch & Learn scheduled for your industry soon. If not, we can set one up for you. Even better, we also offer Professional Development Hours (PDHs) to engineers looking for continuing education. So not only can you learn something, you can get credit for it too.
Working with Moffitt
There's still time to schedule a Lunch & Learn Webinar with us this year and learn about Natural Ventilation from the comfort of your own desk or home office. We know designing for a natural ventilation system is more involved than designing with some exhaust fans, that is why we give you the tools and strategies you need to make it easier. Of course, we are also available to consult on specific projects as well.
In conclusion, give us a call to schedule a Natural Ventilation Lunch & Learn Webinar today.