The Model ST natural ventilator hoods are designed for intake, or relief applications with either natural gravity or positive pressure systems. The ventilators feature a low silhouette, architecturally appealing styling to mount close to the roofline.
The result is minimum impact on the building silhouette. Available in galvanized steel (Model STG) or aluminum construction (Model STA). These hoods are designed to be strong enough to handle the snow loads found in the severest of climates.
Standard Features
Construction: ST

Galvanized Steel (STG)
Aluminum (STA)

Birdscreen: 1/2" mesh galvanized steel mesh for minimum air resistance.
Hoods: Most shipped assembled.
Sizes: Large range of sizes available
Optional Features
Extra strength construction (designed to withstand windspeeds of up to 100 mph)
Anti-condensate coating
1/2″ Fiberglass insulation
Additional Bird or Insect Screens
Air dry enamel
Backdraft damper
Product Catalog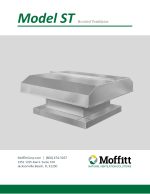 Product Testing and Certification
Airflow Performance Modeled
Product Mounting
The EconoVent is mounted on the roof.