Model RS circular gravity vents are an economical solution for roof ventilation. They are designed for general use on industrial, commercial, public, and government buildings. The model RS conforms to the Army Corps of Engineers Bulletin CE 220.09 for gravity ventilators. They can withstand winds up to 85 miles per hour, and are weatherproof and storm proof under all normal operating conditions.
Standard Features
Material:

Galvanized iron conforming to Specification QQ-1-716
Aluminum alloy sheets meeting #QQA359

Bird Screen
Optional Features
Bases:
Fusible Links
Duct Fan
Product Catalog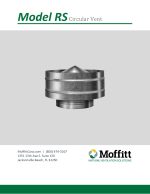 Product Testing and Certification
Airflow Performance Modeled
Product Mounting
The Model RS circular vent is designed for mounting on either a square or round base.