Model VBO Upblast Exhaust Fans are designed to operate reliably in hostile environments where motor and drive need protection due to high temperatures or contaminated air. The propeller helps make the unit suitable for air temperatures up to 200°.
The weather protecting dampers open automatically when the fan is started. The high velocity exhaust airstream holds the dampers open preventing the entrance of rain or snow. When the motor power is cut, the dampers close to provide a complete weather seal. A rain runoff trough is located below the damper shafts to provide drainage to the outside resulting in weather-tight construction. The Model VBO is the perfect ventilator for high heat, heavy manufacturing facilities.
Standard Features
Sizes: 24″ – 60″
HP: 1/3 HP – 10 HP
CFM Range: 5,000 – 100,000+
Drive: Belt Drive, Variable pitch to 7-1/2 HP. Adjustable for final system RPM. Belts sized for 165% of driven HP.
Propeller: High -performance statically and dynamically balanced.
Wind band: Heavy gauge galvanized steel beaded for additional strength.
Dampers: Steel butterfly dampers w/ water runoff troughs for sizes 24" through 60".
Motor Frame: Heavy-duty, all-welded frame
Housing: Galvanized steel, Deep Spun Venturi, protected by a high-performance polyurethane coating
Bearings: Heavy duty, grease lubricated, self-aligning pillow block. 200,000 hours at maximum cataloged operating speeds.
Bearing Supports: Minimum of 1/4" thick plate welded to interior steel channels
Optional Features
Protective Guards:
Magnetic Damper Latches
Disconnect Switches:

NEMA 3R Rainproof
NEMA 4 Watertight

Roof Curbs:

Extended height curbs
Self-flashing (Type SFE)
Roofed over (Type CFE)

Special coatings

Color to match enamel
Epoxies
Urethane powder coatings

Fusible link damper lifter
Product Catalog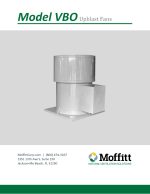 Product Testing and Certification
• UL 705 (must be specified) • Tested and rated in accordance with AMCA publication 211
Product Mounting
Designed for roof mounting. Aligns vertically.