Model PB wall fans utilize premium belt-drive motors. This includes several different styles of propellers, two-drive configurations, and with a variety of available accessories. Sidewall propellers fans are the ideal choice for factory and warehouse applications. All drive frames are built of heavy-gauge construction and built for a lifetime of service.
For a Direct-Drive motor, see the Model P
Model PB wall fans are used in both industrial and commercial applications. They can be orientated for either supply or exhaust applications. Units are excellent for providing worker comfort, and spot cooling when used in supply mode.
Standard Features
Size: 24" – 72"
Drive: Belt
Performance: 250 – 100,000 cfm
Static Pressure: 1.25" w.g.
Arrangement
Motors: Heavy-duty motor for years of trouble-free operation
Propellers: High performance propeller
Housing: G90 galvanized steel (mill finish) with flanges for mounting. protective finish.
Frame: Heavy-gauge construction
Optional Features
Weather Hoods

45° (Relief)
90° (Intake)

Coatings:
Product Catalog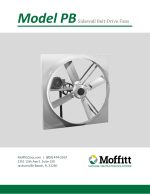 Product Testing and Certification
Units have been tested and rated in accordance with AMCA standards and are guaranteed to perform as stated.
Product Mounting
Units are wall mounted at various heights for intake or exhaust applications.