MegaStream high volume low speed (HVLS) fans are ideal for providing near ground effect air movement. The unit's low speed operation means it is energy efficient and noticeably quiet. This is a low-cost solution for a specific area.
Standard Features
Height: Suitable for ceilings as low as twelve feet (3.7m)
Sound: Less than 35 dBA*
Certification: UL 507 certification
Customization: Easy customization of fan to fit customers applications
Blade: Optimized 5 blade profile for low-speed rotary airfoil application
Air Throw Distance: near ground effect
Controls: Wired touch screen standard
Product Catalog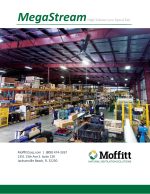 Product Testing and Certification
Tested and Certified by Moffitt.
Product Mounting
Designed for ceiling mounting.