Model VBO-HV Heat and Smoke Fans are designed to meet the normal ventilation needs of many industries, as well as the removal of smoke and fumes during a fire emergency. These high volume, high velocity exhausters are the ideal choice for locations where reliable ventilation is required.
Engineered to meet the high temperature requirements of the Uniform Fire Code of 1000°F for a minimum of 15 minutes, and the IRI requirements of 500°F for a minimum of 4 hours. Tests were conducted by an independent testing organization and witnessed by UL engineers and were tested in accordance with UL smoke control systems standards. The test conclusively proved that the VBO-HV could be operated at these elevated temperatures without failure.
Standard Features
Sizes: 24″ – 60″
HP: 1/3 HP – 10 HP
CFM Range: 5,000 – 100,000+
Standard high-temperature construction meets specifications for IRI requirements of 500° F for a minimum of 4 hours and the Standard Fire Prevention Code requirements of 1000° F for a minimum of 15 minutes
Drive: Belt Drive, Variable pitch to 7-1/2 Adjustable for final system RPM. Belts sized for 165% of driven HP.
Propeller: High -performance statically and dynamically balanced.
Wind band: Heavy gauge galvanized steel beaded for additional strength.
Dampers: Steel butterfly dampers w/ water runoff troughs for sizes 24" through 60".
Motor Frame: Heavy-duty, all-welded frame
Housing: Galvanized steel, Deep Spun Venturi, protected by a high-performance polyurethane coating
Bearings: Heavy-duty, grease lubricated, self-aligning pillow block. 200,000 hours at maximum cataloged operating speeds.
Bearing Supports: Minimum of 1/4" thick plate welded to interior steel channel
Optional Features
Protective Guards:
Magnetic Damper Latches
Disconnect Switches:

NEMA 3r Rainproof
NEMA 4 Watertight

Roof Curbs:

Extended height curbs
Self-flashing (Type SFE)
Roofed over (Type CFE).

Special coatings

Color to match enamel
Epoxies
Urethane powder coatings

Fusible link damper lifter
Product Catalog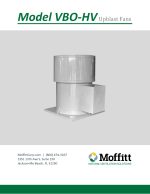 Product Testing and Certification
• UL 705 (must be specified) • Tested and rated in accordance with AMCA publication 211
Product Mounting
Designed for roof mounting. Aligns vertically.