The Model RR Turbine Vent uses light gauge, marine grade aluminum to remove hot air from your facility. The unit's light weight adds no wind load to the building's roof, eliminating the need for costly support steel.
Standard Features
Throat: 6" – 48" Diameter
Cap: Double cap
Rotor: Locked-on rotor mechanism
Vane: Corrugated die-pressed
Radial Bearings: Oil impregnated sintered
Housing: Sealed bearing housing
Material: Hot dipped galvanized steel per federal spec. number QQ1716-2, Class DI
Optional Features
Base Options
Disc Dampers
Product Catalog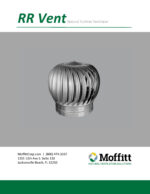 Product Testing and Certification
Airflow performance, test tunnel
Weather tightness
Wind
Product Mounting
Square to Round Base is available in slope, ridge, curb of flat types. Flat collar bases are also available.