Model HFSB Hooded Belt-Drive Filtered Supply Fans provide fresh or make up air that is cleansed of dust and other entrapped particle matter. Model HFS helps the building owner and occupants to meet health and air pollution requirements.
The Model HFSB utilizes a belt-drive motor. For a Direct-Drive model, see the Model HFS Filtered Supply Fan.
Standard Features
Sizes: 24" – 60"
CFM Range: 5,320 – 42,656
Motor: Heavy-Duty Belt-Drive Motor
Propeller: High performance statically and dynamically balanced
Housing: Heavy gauge galvanized steel with vertical, interlocking welded seams
Material: Deep Spun Venturi for high efficiency
Fan Base: All welded fan base
Drive: Variable Pitch to 7-1/2 HP
Belts: Belts sized for 165% of driven HP, oil resistant non-static type
Pillow Block Bearings: Self-aligning, for a minimum (L50) life > 200,000 hours at maximum operating speeds.
Hood: Hinged to provide easy access to motors, belts, pulleys, and propellers.
Angle Drive Frame: Bolted base assembly provides firm base and accurately aligns power assembly.
Optional Features
Dampers:

Model RBD gravity dampers
Motorized
Model RVC heavy-duty backdraft dampers

Testing: UL-705
Safety guards
Coatings

Color-to-match enamels
Epoxies
Urethanes
Urethane powder coating

Disconnect switches

NEMA 1 – indoor general purpose
NEMA 3r – exterior mount, rain-tight
NEMA 4 – water-tight and dust-tight

Extended lubrication lines
Hood Insulation – 1/2" or 1-1/2" thick
High wind tie-down points
Product Catalog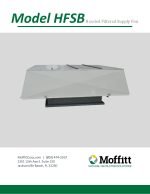 Product Testing and Certification
Units have been tested and rated in accordance with AMCA standards and are guaranteed to perform as stated.
Product Mounting
Mounted on the roof with hood covering the fan apparatus. Curbs are available as needed, hood tie downs are included.