Model R-DF Dock Fans recirculate air throughout the loading docks. Developed by Romlair Fan Company, this fan is also known as the "Romulator". The powerful blowers greatly increase air velocity, pushing air deep inside of a 53′ trailer. This solution improves comfort and productivity during loading and unloading. The inside of trailers boxes often becomes extremely hot while they are parked in the platform area. That is why dock fans, like the Model R-DF, are so crucial.
Motor Drive: Direct
Nozzle: Attractive nozzle design with spun inlet bell
Air Straightener: Integral to reduce air swirl
Propeller: High-performance blade
Guards: Heavy-duty safety guards on both the inlet and outlet ends
Power Cord: Furnished for all 115v units
Coating: Fan housing coated with thermally fused powdered polyurethane black finish.
Power: Low amp applications
Product Catalog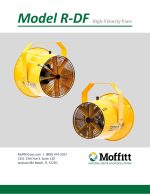 Product Testing and Certification
Airflow performance modeled.
Product Mounting
Model R-DF dock fans fit on the platform curtain to inject fresh air along the platform.