Model RTC truck fans recirculates air within semi-truck trailers and around loading docks. The powerful forward curved centrifugal blower can push air deep inside a 53′ trailer. A vast improvement over competing models. It has been optimized to rapidly ventilate hot trailers by forcing the hotter out the floor level of the space. Plus, the design provides minimal access blockage. Only the nozzle of the blower extends into the truck bay. This minimizes damage caused by personnel or material handling equipment.
Model RTC truck fans are the key to improving comfort and productivity during loading and unloading.
Standard Features
Motor: Direct Drive 3/4 Hp
Fan RPM: 1077
Fan Housing – Galvanized Steel
Finish – Thermally fused powdered polyurethane safety yellow finish.
Blower Housing and Wheel – Galvanized steel mill finish.
Guards: Guarding complies with OSHA regulations
Color: Safety yellow standard, special colors available
Shipping weight: 56 lbs. (includes mounting arm)
CFM: 2,800
Air Throw: 60 feet
Warranty – 2 years
Product Catalog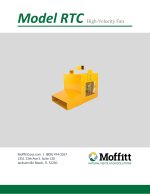 Product Testing and Certification
Airflow performance modeled.
Product Mounting
Model RTC mount on a rail above the dock door.